Die Fußballsaison von Forge of Empires hat begonnen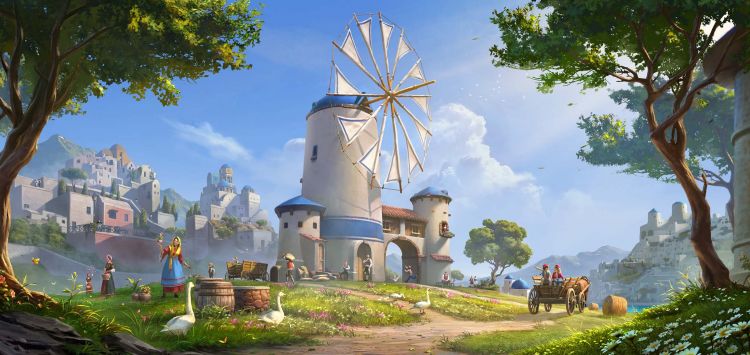 Die Fußballsaison hat begonnen und Trainer Miller kann jeden Fuß auf dem Platz gebrauchen. Das alljährliche Event ist da und der Trainingsplatz wartet. Es ist Zeit für die Spieler von Forge of Empires, ihre Fußballmannschaft zu wählen.
Die Teilnahme am Fußball-Event verleiht Forge of Empires einen neuen Sinn für Strategie und Wettbewerb. Du wählst deine Mannschaft aus und sammelst Energydrinks, um den Ball auf dem Spielfeld zu bewegen und von Spieler zu Spieler zu passen. Jeder Pass ist wichtig. Ein kurzer Pass verbraucht weniger Energydrinks, aber ein langer erreicht schneller sein Ziel. Geschwindigkeit und Ausdauer müssen also bei jedem Zug berücksichtigt werden! Fußball kann anstrengend sein. Deshalb brauchen die Mannschaften Energydrinks, damit sie fit bleiben. Die Drinks erhältst du, wenn du die Aufgaben von Trainer Miller erfüllst.
Eine wichtige Rolle spielt die Teamauswahl. Während des Events werden Spielerkarten gesammelt, um eine gewisse Auswahl zu ermöglichen. Jede neue Spielerkarte schaltet entweder einen neuen Spieler frei oder erhöht die Stufe eines Spielers, der bereits im Kader ist. Je besser die fußballerischen Fähigkeiten, desto mehr Belohnungen kannst du bei der Teilnahme am Event freischalten. Während des Trainings kannst du durch Teampässe einen zufälligen Preis eines ausgewählten Spielers freischalten und hast die Möglichkeit, den Preis des Tages zu gewinnen. Wer es schafft, das Feld zu überqueren und ein Tor zu schießen, erhält den Großen Preis.
Die Spieler von Forge of Empires können auch in dieser Saison am Fußballturnier teilnehmen. Um teilzunehmen, werden nur drei Tickets gebraucht, die durch das Erledigen der Aufgaben von Trainer Miller oder durch geduldiges Warten gesammelt werden können, denn alle acht Stunden wird automatisch ein Ticket generiert. Der Schwierigkeitsgrad des Spiels (leicht, mittel oder schwer) kann vor dem Anpfiff ausgewählt werden. Anschließend können die Kapitäne eine Aufstellung wählen, die zu ihrem Gegner passt. Die Fußballstars haben ihre bevorzugten Positionen, also kann die Wahl der richtigen Fußballspieler auf der richtigen Position den Unterschied zwischen Sieg und Niederlage ausmachen.
Der Große Preis des Events ist die Windmühlenfarm, ein Gebäude, das verkettet werden kann und aus der Gentiana-Windmühle und vier Windmühlen-Nutzflächen besteht. Mit diesen fünf Elementen kannst du deine Verteidigungs- und Angriffswerte erhöhen, Münzen sammeln und verschiedene Mengen an Gütern gewinnen, während du dein Gebäude verbessert. Außerdem gibt es Verbesserungen für vier exklusive Erfolge in der Fußball-Meisterschaft sowie sieben neue, exklusive Event-Porträts zu gewinnen.
Mehr Informationen über das Fußball-Event 2022 gibt es in diesem Video: https://youtu.be/FpT-nYZc-5w.
Forge of Empires ist kostenlos im Browser sowie mobil für Android und iOS verfügbar.
Über Forge of Empires
Seit seinem Release im Jahr 2012 ist Forge of Empires (www.forgeofempires.com) eines der weltweit erfolgreichsten Strategiespiele mit mehreren Millionen aktiven Spielern in über 30 Märkten. In Forge of Empires führen die Spieler ein Dorf durch die verschiedenen Epochen der Menschheitsgeschichte – von der Steinzeit bis in eine ferne Zukunft. Durch geschicktes Handeln und taktisches Geschick auf dem Schlachtfeld können sie ihren Einflussbereich erweitern und ein beeindruckendes Imperium erschaffen. Kontinuierliche Content-Updates sorgen für einen sehr großen Spielumfang und mehrere Jahre Spielspaß. Beim Spielen kann jederzeit zwischen dem Browser, iOS- und Android-Endgeräten gewechselt werden.
Über InnoGames
InnoGames ist Deutschlands führender Entwickler und Publisher von Mobile- und Online-Spielen und ein zertifizierter Great Place to Work®. Das klimaneutrale Unternehmen mit Sitz in Hamburg wurde 2003 gegründet und gehört heute zur Modern Times Group (MTG). Gemeinsam mit einem Team von mehr als 400 Mitarbeiter*innen aus über 40 Nationen entwickeln die Unternehmensgründer einzigartige Spiele, die Millionen von Spielern auf der ganzen Welt jahrelangen Spaß bieten. Bekannt ist InnoGames vor allem für Forge of Empires, Elvenar und Die Stämme, aber das Unternehmen vergrößert sein Portfolio kontinuerlich über Plattformen und Genres hinweg. Die aktuellsten Neuzugänge sind Rise of Cultures und Sunrise Village, die Anfang 2022 erfolgreich kommerziell gelauncht wurden.